Qualitative Data Analysis using NVivo Software
The aim of this workshop is to provide a unique opportunity and enable the participant:
To understand the various methods for the collection and analysis of qualitative data
To handle different data e.g., text files, field notes, audio/video recording interviews/documentaries/focus group discussions, websites, data sets, social media files etc. in NVivo software
To organize, classify and sort the different types of data
To transcribe audio/video recordings using NVivo Transcription Tools
To identify themes and apply codes (coding types & tree nodes)
To explore results in the different form e.g., tag clouds, treemaps, graphs, charts
To interpret and report the qualitative findings
To shape the findings into models and relationships
For the detailed schedule, please click here. 
Fee
Free if you are registered for GLOCER Conference
$99, If you want to join this session only and receive a certificate
Please click here to register.

Presenter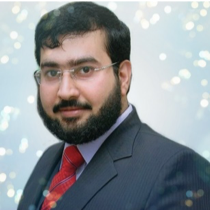 Dr. Rab Nawaz Lodhi is the Assistant Professor and PhD Program Coordinator at Institute of Business and Management, University of Engineering and Technology Lahore where he is teaching MBA, MS and PhD classes and supervising MS and PhD students. He is also the Higher Education Commission (HEC) Approved PhD Supervisor in Pakistan. His areas of interest include General Management/HRM/Marketing and Information System. He has several international publications mostly in HEC recognized journals including the Impact Factor Journals of Sage Publishing Inc., Emerald Publishing, John Wiley & Sons, Springer Publishing and Taylor and Francis Group. He is also a member of the editorial team in 36 international refereed journals. He has received grants from the HEC Pakistan to organize research workshops in different universities. He is a certified international trainer of QSR-NVivo. He has expertise in several quantitative and qualitative tools e.g., NVivo, MaxQDA, Atlas-ti, Eviews, SPSS, STATA, AMOS, Smart PLS, MPlus, Endnote etc. This is the reason that he has trained several MS/PhD scholars, PhD faculty members, deans, directors and professional researchers in 41 universities, and research institutes in Malaysia, Indonesia, Jamaica, Saudi Arabia, UAE and Pakistan.